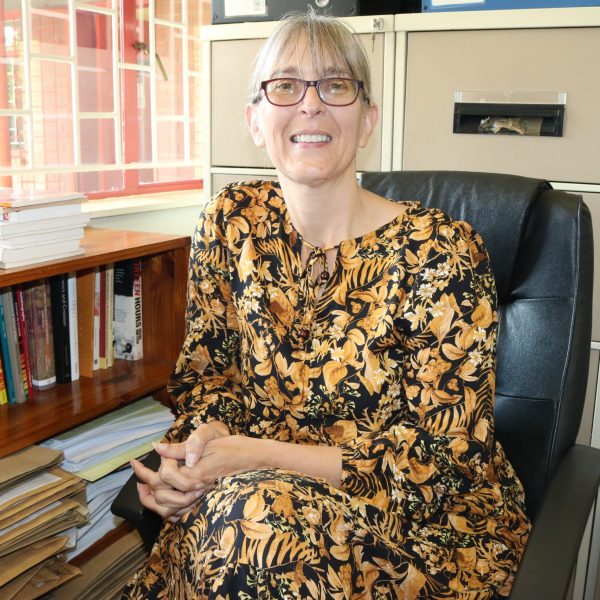 Prof. Karen Ferreira-Meyers
Coordinator Linguistics and Modern Languages
I am a focused, goal-driven professional who loves teaching and learning. I have extensive experience in various academic fields, from literature (autofiction/biography, crime fiction, African literature) to Open Education, Distance and E-Learning  pedagogy and didactics (language and literature/culture). 
Ph.D. in French and Francophone Autofictional Literature
1984/1988 – Master of Arts in Romance Languages and Philosophy, VUB (Vrije Universiteit Brussel, Belgium)
1987/1988 Teacher's Certificate High School and four-year College!University Level, VUB, Brussels.
1988/1989 Post-Graduate Certificate in Spanish Language and Literature, VUB, Brussels.
1988/1990 Master of Business Administration, VUB (2nd year not completed), VUB, Brussels.
1996/1999 Portuguese, BA Level, University of South Africa
1997/1999 Post-Graduate Diploma in Translation (French-English-French), University of South Africa
1998/2001 Diploma in Law, IDE, University of Swaziland
1999/2001 MA in Linguistics, University of Stellenbosch
2000/2002 BA Honours in Portuguese, University of South Africa- Thesis on Lusophone Angolan literature (Pepetela).
2003/2005 LLB degree (University of South Africa)
2007 LLM degree (University of South Africa)
2011/2013 Master in Instructional Design and Technology, Open University of Malaysia. MA degree obtained with distinction in December 2013.
Open Education (OER, OEP), Online and Distance Teaching and Learning, Teaching and learning of languages, autofiction and autobiography (life writing), crime and detective fiction, African literature in French, English, Spanish and Portuguese.